Tin Ceilings, Consisting of painted; embossed tin plate panels are almost uniquely North American. Although they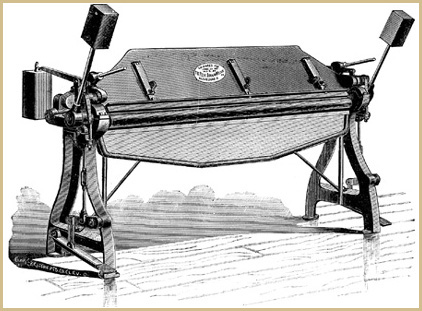 were introduced into Australia and South Africa
in the late nineteenth century, they are virtually unknown in the rest of the world. Tinplate, and other metal sheets such as copper or stainless steel panels, are stamped with complex and sophisticated patterns, copied and developed from the finest carved and molded plasterwork. Such plasterwork had been fashionable in the wealthiest European households and tin ceilings were originally developed as a more practical substitute, which could easily be shipped anywhere.
The use of tin ceilings really developed in the mid-nineteenth century, when mass produced sheets of thin rolled tinplate became readily available in America and reached the zenith of their popularity in the 1890s. As a result, many old buildings boast original antique tin ceilings, cornices, wall panels and wainscots.
The restoration of tin panels, and the interest and nostalgia they have generated has led to a rival of their use in the US and Canada. Besides being used in restoration projects, tin ceilings are back in style, with new uses and a wider selection of creative designs. Tin panels can be installed in all types of public, commercial and residential properties, and particularly in new developments where the add character and individuality to the building. Panels can be painted to look like plasterwork, clear lacquered to preserve their natural polished silver finish, plated, and made of metal like copper or stainless steel to achieve a different effect.
One of the most striking and beautiful effects is achieved by "pattern painting" or faux painting the panels. The effect is created by picking out the details in the panel's pattern in different colours.
Tin panels offer a number of advantages over traditional plasterboard and suspended ceiling installations:
Tin Panels are artistic in design.
Tin Panels are 2' x 2' for an easy installation.
Tin Panels can be installed simply by nailing, screwing, stapling or by placing them in a t-bar.
Tin Panels can be finished in many different ways.
Tin Panels are available in many different patterns.
Tin Panels are relatively lightweight and are very low maintenance.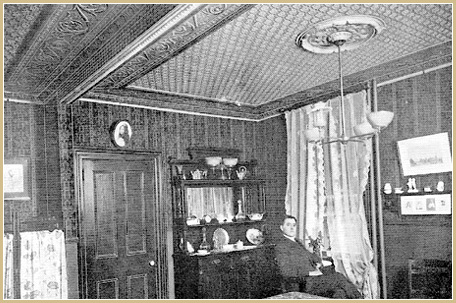 The tin materials offer many benefits in comparison to plastics and other materials. Our Tin Panels are made with the same tin material used over a hundred years ago. In most cases tin panels outlast the hundred year old buildings that they are in. They are more durable over longer periods of time.